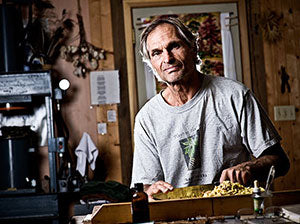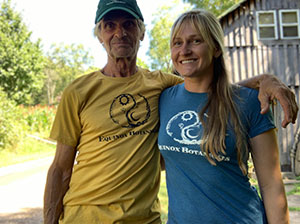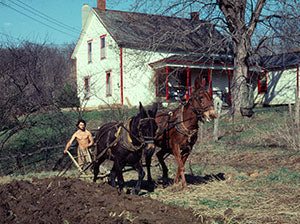 Paul Strauss was born in New York City, but it was his childhood summers spent in upstate New York, surrounded by woods, ponds, and gardens that inspired his life's mission to steward land. Traditional college studies were not for Paul: he spent most of his half year at university as an anti-Vietnam War activist and as a ward attendant in the Boston State Hospital's extreme psychotic ward. After the Woodstock gathering, he headed cross country to California. His travels of the Southwest took him to Taos, New Mexico, where he learned of nature, right livelihood, and medicinal plants from a Shoshone man. He spent time studying plants on Hopi and Navajo reservations, and lived for long periods of time in both Sycamore Canyon Wilderness Area and Superstition Wilderness Area in Arizona.
Upon hearing of the availability of inexpensive land in Southeast Ohio, an area abundant with native herb populations, Paul purchased 80 acres in 1970. Once there, he befriended two local farming families. His work with them instilled skills in agriculture, food preservation, animal husbandry, and with working mules. He has spent 42 years rebuilding his farmhouse and barns, refertilizing the land, and reclaiming land stripped mined for coal.
Using the local wild woodland and field herbs, Paul created medicines which grew in popularity among friends he shared them with. In response to this demand, Paul built an apothecary, and created Equinox Botanicals in 1982.
In an effort to protect the unique habitat of the area, long-used for ecologically-damaging resource extraction, Paul bought up land surrounding the farm, and helped to foster nature-oriented community by encouraging friends, interns, and students to join him, and help them find local farms. In 1998, he donated 70 acres to United Plant Savers, which, along with an additional donation of 300 acres by the Funks, was used to create the first United Plant Savers Botanical Sanctuary. Here, native species are given room to grow and propagate, and interns learn about "at risk" species and how to protect them. Today, Equinox Farm & Botanical Sanctuary Farm holds about 300 acres of farm, forest, and prairie that border the UpS botanical sanctuary, which are both part of a larger collective of nearly 3,000 acres. Paul created the Talking Forest Medicine Trail system which covers over 12 miles of this reserve. Along the trail, signs identify plant species and provide information about them. This provides an opportunity for visitors to gain awareness of native plants and their importance to herbal medicine through traditions used by First Nations peoples for thousands of years. Paul invites students and the public to assist him in the conservation of this land. He continues to teach the benefits of herbs and herbal knowledge as it relates to a self-sustainable lifestyle.
Paul is a farmer, herbalist, beekeeper, and teacher, and he emulates the "Green Man." From seed, to harvest, to medicine production, he works intimately with plants. As owner of Equinox Botanicals, Paul grows much of what is used in their line of herbal products. He has lived on his farm for fifty years.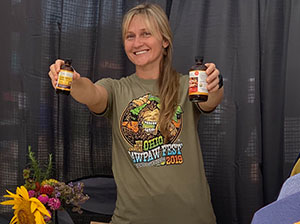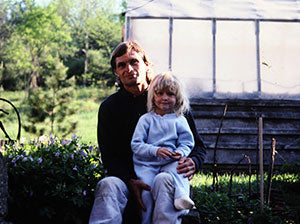 Lonnie Galt-Theis is an herbalist, yoga teacher, reiki practitioner, and environmental educator. Growing up in Athens and on Equinox Farm & Botanical Sanctuary, she spent much of her time outdoors, connecting to plants and animals, instilling in her a deep love of Appalachian ecology. With Paul Strauss as her stepfather, she began her study of medicinal plants at a young age. This time in her life established her love and commitment to earth and community, and became the foundation of her passionate life work.
Once in college, she spent many of her summer breaks apprenticing with Paul and Equinox Botanicals. After graduating from the University of Colorado Boulder with a degree in Anthropology that focused on the environment, sustainability, and conservation, she moved back to Ohio and began working as product maker and business manager of Equinox Botanicals. Over the years, her passion for herbalism led her to also study at the Colorado School of Clinical Herbalism, the Appalachian School of Herbal Medicine, and with other renowned herbalism teachers. Since 2011, she has poured her heart and energy into running Equinox Botanicals and in 2020 she became part owner of the company.
Other than working with medicinal plants, Lonnie's greatest passions are teaching yoga and mindfulness, and fostering a connection between people, plants, animals, and their surrounding environment through guiding walks in the forest, running Sassafras Camp--an outdoor nature and arts summer camp started by her mother, and teaching for the United Plant Savers Medicinal Plant Conservation Certificate Program. She has a vision for sustainably growing Equinox Botanicals and creating more classes and retreats on Equinox Farm and Botanical Sanctuary.