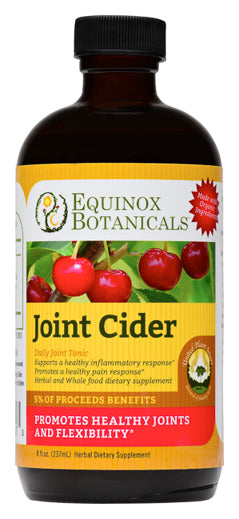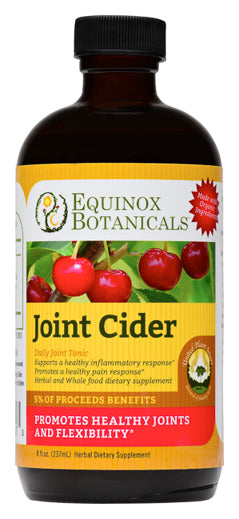 On Sale
Joint Cider
The herbs and whole foods in this formula have traditionally been used to support a healthy inflammatory response.*  Joint Cider combines a 6 week nettle infused apple cider vinegar, prickly ash tincture, a super-concentrated decoction of white willow bark, yucca root, black cohosh root, and wild yam root, an infusion of St. Johns Wort, and tart cherry concentrate into one full-spectrum formula that is powerpacked! The lip-smacking combination of American tart cherry juice, raw apple cider vinegar, and raw honey gives this formula a taste that will make it easy to give your joints the pampering they deserve.
Ingredients: Nettle Herb (Urtica dioica), White Willow Bark (Salix alba), Yucca Root (Yucca glauca), Black Cohosh Root (Actaea racemosa), Wild Yam Root (Dioscorea villosa), St John's Wort (Hypericum perforatum), Prickly Ash (Zanthoxylum clava-herculis)

All Herbs are Organically grown or ethically wild harvested.

Other Ingredients: Organic Raw Apple Cider Vinegar, Filtered Spring Water, Raw Honey, Organic Tart Cherry Juice Concentrate, UPS Grade Glycerin, Organic Grain Alcohol.