Our Process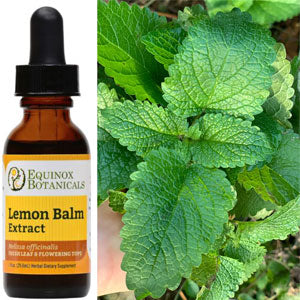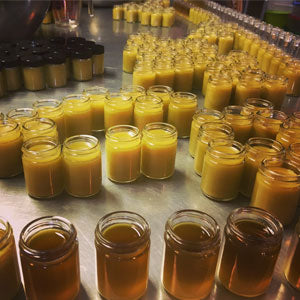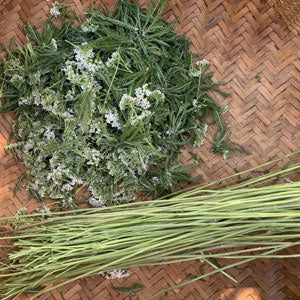 What is an herbal extract? An herbal extract is a preparation in which grain alcohol is used to extract the essential qualities of herbs. There are several benefits to using extracts. Easily taken as drops in water or juice, they are quick and convenient. Carried by alcohol, the nutritive properties enter the blood stream more quickly than in any other form. Another advantage of extracts is that they remain effective, and naturally preserved for a long period of time.
We make the majority of our extracts from the fresh green plant or root, gathered at peak potency for maximum effect. The extraction process begins immediately thereafter, using 95% medical grade, organic grain alcohol. Our extracts are bottled in amber glass to prolong maximum potency. Packed with herbs, our extracts are known for strength.
Other products including Mullein Garlic Ear Oil, The Golden Salve, and Hemp-Aid Salve are made using a similar extraction process; however oils, such as organic extra virgin olive, safflower, coconut, and hemp seed, are used to extract the essential qualities of the herbs in these formulas instead of alcohol. The oils and herbs are heated slow and long to draw the constituents of the plants, and for the Ear Oil we use an even slower and more tedious, but highly effective, solarized extraction process, using the power of the sun to extract the chemical constituents of the mullein flowers, yarrow, calendula, and fresh garlic. It is important that all extracts be used in conjunction with a healthful diet, regular exercise, and other health-promoting activities.
NOTE: For those on an alcohol-free diet, the alcohol can be greatly reduced from our extracts by placing the extract in hot water, and allowing the alcohol to evaporate.
Herbal extracts should be kept upright in a cool, dry place, away from sunlight and heat in order to prolong shelf life.
The Golden Salve
The Golden Salve is non-toxic and can be used externally anywhere on the body. Although it's a powerful antiseptic, it is also very gentle making it safe for face lips and other sensitive areas of the body. ***The Golden Salve is not intended for deep puncture wounds as surface healing may occur prior to internal healing.
The Golden Salve can be used safely on a daily basis. For some first-hand accounts visit our testimonials page.
The Golden Salve does not have an expiration date. In over forty years of working with this product, we haven't heard of a jar going bad. A container of The Golden Salve will easily last several years (if you don't use it up first!). We do recommend keeping it out of sunlight and for prolonged storage, keep it in a cool dark place such as a cabinet or refrigerator. We do not recommend freezing.
Mullein Garlic Ear Oil
Mullein Garlic Ear Oil is non-toxic, so it is safe to use liberal amounts on a daily basis and is safe for long term use. As indicated on the bottle, we recommend using 1-2 drops, 2-3 times daily.
Each bottle of Mullein Garlic Ear Oil has an expiration date. The oil generally lasts about 3 years. Store the oil in a cool dark place.
Extracts
Our extracts have a 5 year expiration date. The alcohol in the formula acts as a preservative. Store extracts in a cool dark place.
General
Sure! You can pay for an order using a check. Call our office at 740-742-1144 to receive a mail order form. Return the order form with your check and we'll get the order right out. We also accept all major credit cards.
Absolutely! We are always happy to take an order or answer any questions you might have. Call our office at 740-742-1144 any time. If we don't answer, leave us a message and someone will get right back to you.
The Talking Forest Trail winds through forests connecting our farm, both sanctuaries, and adjacent properties which are home to thousands of species of plants and fungi. The trails are dotted with hundreds of signs indicating individual species with information about them. The largest sections of the trail are on the United Plant Savers Botanical Sanctuary and are open for visitors all times of the year, simply call their office at 740-742-3455 or visit their website at www.unitedplantsavers.org for more information and to schedule a visit. There are limited times available to visit our farm and sanctuary due to our busy schedules but feel free to email us at info@equinoxbotanicals.com if interested and we will do our best to find a time. In the future we do plan to have more farm and sanctuary tours, classes, and events that will be posted on the website.