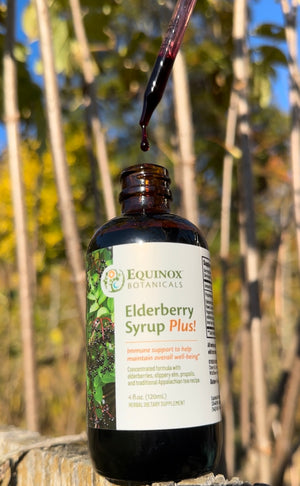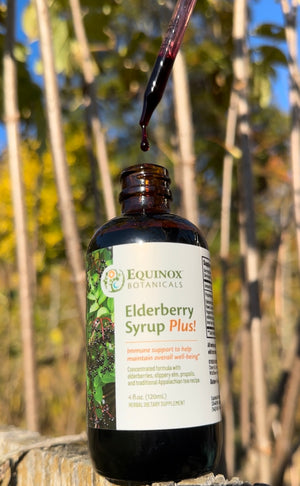 On Sale
Elderberry Syrup Plus 4 oz.
Immune support to help maintain overall well-being
Our Elderberry Syrup harkens back to our "Folk Herbalist" roots. Borrowing from an old Appalachian recipe, we combine elder flower, yarrow, lemon balm, peppermint, slippery elm, and propolis with organic elderberries, raw local honey, organic glycerin, and brandy to create a super concentrated syrup that is nutritious, delicious, and effective!

Ingredients: Elder (Sambucus nigra canadensis) berries and flower, Slippery Elm (Ulmus rubra) inner bark, Yarrow (Achillea millefolium) flower, Lemon Balm (Melissa officinalis) leaf, Propolis (Apis mellifera) resin, Peppermint (Mentha piperita) leaf.
All herbs are organically grown or ethically wild harvested
Other Ingredients: Organic Raw Wildflower Honey, USP Grade Non GMO Glycerine, Organic Tart Cherry Concentrate, Purified Spring Water, Brandy
Suggested Use: Adults: 1 teaspoon per day; Children under 50 lbs: 1/4 teaspoon per day; Children over 50 lbs: 1/2 teaspoon per day; Additional support: use 3-5 times daily, then return to normal use.
Shake well before use.