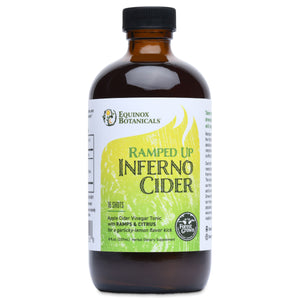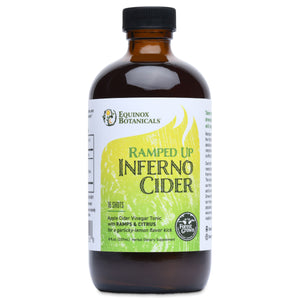 On Sale
Ramped Up Inferno Cider 8oz
A limited seasonal product
 Packed with ramps and citrus, this cider is a delicious garlicky lemon delight. Taken straight or mixed into drinks, dressings, and marinades, this fire cider will ramp up your life! 
Ramps are a unique species of forest herb that grow in the rich, and densely shaded understories of the Eastern deciduous forest. As a member of the onion family, ramps have a uniquely pungent and garlicky flavor that is difficult to pass up. Due to their high demand in the culinary industry, wild ramps have been overharvested, and even eliminated from the forests they have thrived in for generations. The ramps in this bottle were grown and harvested from our forest using sustainable forest farming practices, and in accordance with the United Plant Savers' Forest Grown Verification program. By sustainably stewarding our ramp populations, and helping to increase population growth by collecting and replanting seeds, we are helping to ensure the long-term health and viability of the ramp in Central Appalachia. Enjoy!
Ingredients: Organic Apple Cider Vinegar, Raw Local Honey, Organic Oranges and Lemons, FGV Ramps (Allium triccocum), Organic Horseradish, Organic Ginger, Organic Turmeric, Organic Rosehips, Organic Garlic, Organic Habanero.
Promotes cleansing and detoxification, boosts nutrition, and supports respiratory, digestive, and circulatory function.*